The Mercedes-Benz GLB is a luxury compact SUV that combines style, functionality, and performance in one remarkable package. Introduced to the market in 2019, the GLB quickly gained popularity for its unique blend of practicality and luxury. In this article, we'll explore the various aspects of the Mercedes-Benz GLB, from its specifications to its standout features.
Exterior Design
The Mercedes-Benz GLB boasts a bold and distinctive exterior design. With its boxy silhouette and prominent grille, the GLB exudes a rugged yet sophisticated presence on the road. LED headlights and taillights provide a modern touch, and the optional AMG Line package enhances its sporty appearance with unique front and rear bumpers, as well as 19-inch alloy wheels.
Dimensions
The GLB is available in both a five-seat and seven-seat configuration. Its overall dimensions are:
Length: 182.4 inches
Width: 72.2 inches
Height: 65.3 inches
Wheelbase: 111.4 inches
This compact SUV strikes a balance between interior space and maneuverability, making it suitable for urban commutes and longer journeys alike.
Engine Options
The Mercedes-Benz GLB offers a range of engine options to cater to different driving preferences. The available engines include:
Mercedes-Benz GLB 250:
This variant features a 2.0-liter inline-4 turbocharged engine producing 221 horsepower and 258 lb-ft of torque. It comes with an 8-speed dual-clutch automatic transmission and is available in both front-wheel drive and 4MATIC all-wheel drive configurations.
GLB 35 AMG: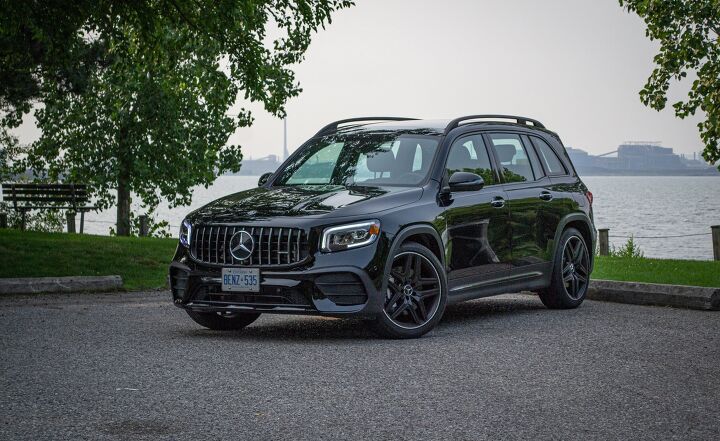 For those seeking a more spirited driving experience, the GLB 35 AMG is equipped with a 2.0-liter inline-4 turbocharged engine, producing an impressive 302 horsepower and 295 lb-ft of torque. It features an AMG-tuned suspension and a sportier exhaust note.
GLB 250e Plug-In Hybrid (PHEV):
Mercedes-Benz also offers a plug-in hybrid variant of the GLB. This model combines a 1.3-liter turbocharged inline-4 engine with an electric motor, delivering a total system output of 221 horsepower and an estimated electric-only range of up to 35 miles.
Interior Comfort and Technology
Step inside the Mercedes-Benz GLB, and you'll be greeted by a luxurious and spacious interior. High-quality materials and attention to detail are evident throughout the cabin. Notable interior features include:
MBUX Infotainment System: The GLB is equipped with the Mercedes-Benz User Experience (MBUX) infotainment system, featuring a 7-inch touchscreen display (with an available 10.25-inch upgrade). MBUX offers voice control, smartphone integration, and advanced navigation.
Premium Seating: The GLB offers comfortable seating for both the driver and passengers, with available options like leather upholstery, heated and ventilated front seats, and power-adjustable seating positions.
Cargo Space: Despite its compact dimensions, the GLB boasts an impressive amount of cargo space. With the rear seats folded down, it provides up to 62 cubic feet of cargo space, making it highly practical for hauling luggage or larger items.
Safety and Driver Assistance
Safety is a top priority for Mercedes-Benz, and the GLB comes equipped with a comprehensive suite of driver assistance features, including:
Active Brake Assist: This system can detect potential collisions and automatically apply the brakes to mitigate or prevent accidents.
Adaptive Cruise Control: The GLB's adaptive cruise control can maintain a set speed and following distance from the vehicle ahead, enhancing highway driving convenience.
Blind Spot Monitoring: A crucial safety feature, this system alerts the driver to vehicles in their blind spots, reducing the risk of side-impact collisions.
Lane Keeping Assist: The GLB helps the driver stay in their lane by providing steering assistance if it detects unintentional lane drifting.
Traffic Sign Recognition: This system can read road signs and display the posted speed limit and other relevant information on the vehicle's dashboard.
Performance and Handling
DYNAMIC SELECT
Off-Road Engineering package
The GLB offers a balanced ride, with a comfortable suspension that absorbs road imperfections while maintaining stability during cornering. The 4MATIC all-wheel-drive system ensures excellent traction in various driving conditions, while the sportier AMG variant delivers sharper handling and quicker acceleration.
Fuel Efficiency
Fuel efficiency varies depending on the engine and drivetrain configuration. The GLB 250 achieves approximately 23-25 mpg in the city and 30-32 mpg on the highway, while the GLB 35 AMG offers slightly lower fuel economy due to its higher-performance engine. The GLB 250e Plug-In Hybrid, on the other hand, delivers impressive fuel efficiency thanks to its electric-only driving capability.
Price and Trim Levels
The Mercedes-Benz GLB is available in several trim levels, allowing buyers to choose the one that best suits their preferences and budget. As of the latest information available, the starting price for the base GLB 250 is around $38,000, while the GLB 35 AMG and GLB 250e Plug-In Hybrid are priced higher due to their additional features and performance enhancements.