Introduction
Under the hood, the Lexus LX houses a potent 5.7-liter V8 engine. This powerhouse generates a formidable 383 horsepower and 403 lb-ft of torque, delivering commanding performance on any terrain. The LX accelerates from 0 to 60 mph in just 7.3 seconds, showcasing its impressive agility for a vehicle of its size.
The Lexus LX is a remarkable embodiment of luxury, power, and elegance in the world of SUVs. Crafted with precision and designed to impress, this flagship model from Lexus has earned its place as a symbol of opulence and performance. In this comprehensive article, we will delve into every minute detail and specification of the Lexus LX, showcasing why it is considered one of the finest SUVs on the market.
Design Of Lexus LX
The Lexus LX makes an unforgettable first impression with its imposing design. Its bold and angular front grille is flanked by striking LED headlights, which illuminate the road ahead with unparalleled clarity. The LX features a sleek and aerodynamic profile, with sculpted lines that enhance its visual appeal. The rear end is equally captivating, with LED taillights and a distinctive chrome trim. Its large, imposing presence exudes a sense of power and luxury, setting it apart from the crowd.
Engine and Performance
The full-time four-wheel-drive system ensures that the LX can handle a wide range of driving conditions, from city streets to off-road adventures. Its adaptive suspension system offers a smooth and comfortable ride, adjusting to changes in the road surface and terrain. Furthermore, the LX boasts a towing capacity of up to 7,000 pounds, making it a versatile choice for those who require both luxury and utility.
Interior Comfort and Technology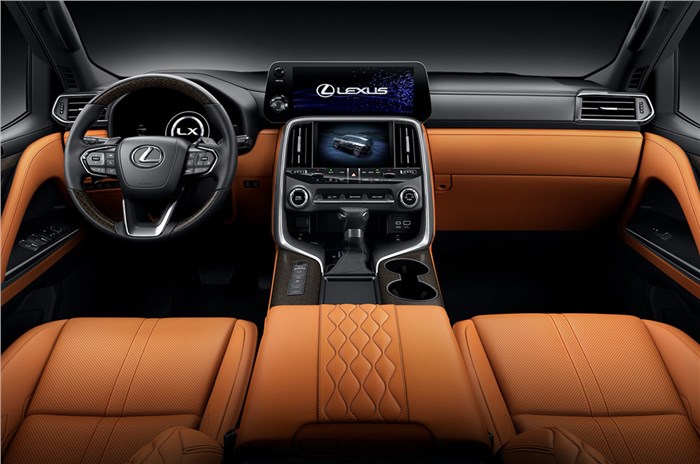 Step inside the Lexus LX, and you'll be greeted by a sumptuous cabin designed to indulge the senses. Premium leather upholstery, wood trim, and soft-touch materials create an atmosphere of opulence. The spacious cabin accommodates up to eight passengers in the three-row configuration, while the available two-row version offers even more legroom and comfort for rear-seat passengers.
The LX is equipped with a plethora of cutting-edge technology features. The infotainment system boasts a 12.3-inch touchscreen display, which is intuitive to use and provides access to navigation, audio, and connectivity options. Smartphone integration, including Apple CarPlay and Android Auto, ensures that you stay connected while on the road. The available Mark Levinson premium audio system delivers a concert-like listening experience, with 19 speakers strategically placed throughout the cabin.
Safety Features
Lexus prioritizes safety, and the LX is no exception. It comes standard with a comprehensive suite of advanced safety features, including:
Adaptive Cruise Control: Maintains a safe following distance from the vehicle in front of you, adjusting your speed as needed.
Lane Departure Warning and Lane Keeping Assist: Helps you stay within your lane and provides alerts if you drift out of it.
Blind Spot Monitoring: Alerts you to vehicles in your blind spots, enhancing your awareness on the highway.
Automatic Emergency Braking: Detects potential collisions and automatically applies the brakes to mitigate or avoid accidents.
Parking Assistance: The LX offers a 360-degree camera system and parking sensors to aid in parking and maneuvering in tight spaces.
Off-Road Capability
The Lexus LX is more than just a luxury SUV; it's an off-road beast. Its robust construction, combined with advanced off-road technology, makes it capable of tackling challenging terrain with ease. The Multi-Terrain Select system allows drivers to choose from various modes to optimize performance on different surfaces, from mud and sand to rock and dirt.
Furthermore, the available Crawl Control feature takes control of acceleration and braking when navigating steep or treacherous terrain, allowing the driver to focus on steering. With a generous ground clearance and impressive approach and departure angles, the LX is ready to conquer the great outdoors.
Fuel Efficiency
While the Lexus LX excels in power and performance, it's important to consider its fuel efficiency. Given its large V8 engine and weight, it's not the most fuel-efficient SUV on the market. The LX achieves an EPA-estimated 12 mpg in the city and 16 mpg on the highway. However, for those who prioritize performance and luxury, this may be a trade-off worth making.
Price and Trims
The Lexus LX is available in two well-appointed trims: the LX 570 and the LX 570 Sport Package. The Sport Package adds sportier styling elements and exclusive features for those seeking a more dynamic appearance.
Pricing for the LX starts at around $86,830 for the base model, while the LX 570 Sport Package is priced slightly higher, starting at approximately $91,830. These prices may vary depending on optional features and packages.
Conclusion
In conclusion, the Lexus LX is a true masterpiece of automotive engineering, combining luxury, performance, and off-road capability in one remarkable package. From its striking design to its powerful V8 engine, advanced technology, and comprehensive safety features, the LX leaves no stone unturned in its pursuit of excellence.
Whether you're navigating city streets or venturing off the beaten path, the Lexus LX is prepared to elevate your driving experience. While its fuel efficiency may not be its strongest suit, it more than compensates with its exceptional luxury and performance. If you're in the market for a premium SUV that offers the perfect blend of opulence and capability, the Lexus LX deserves a spot at the top of your list.