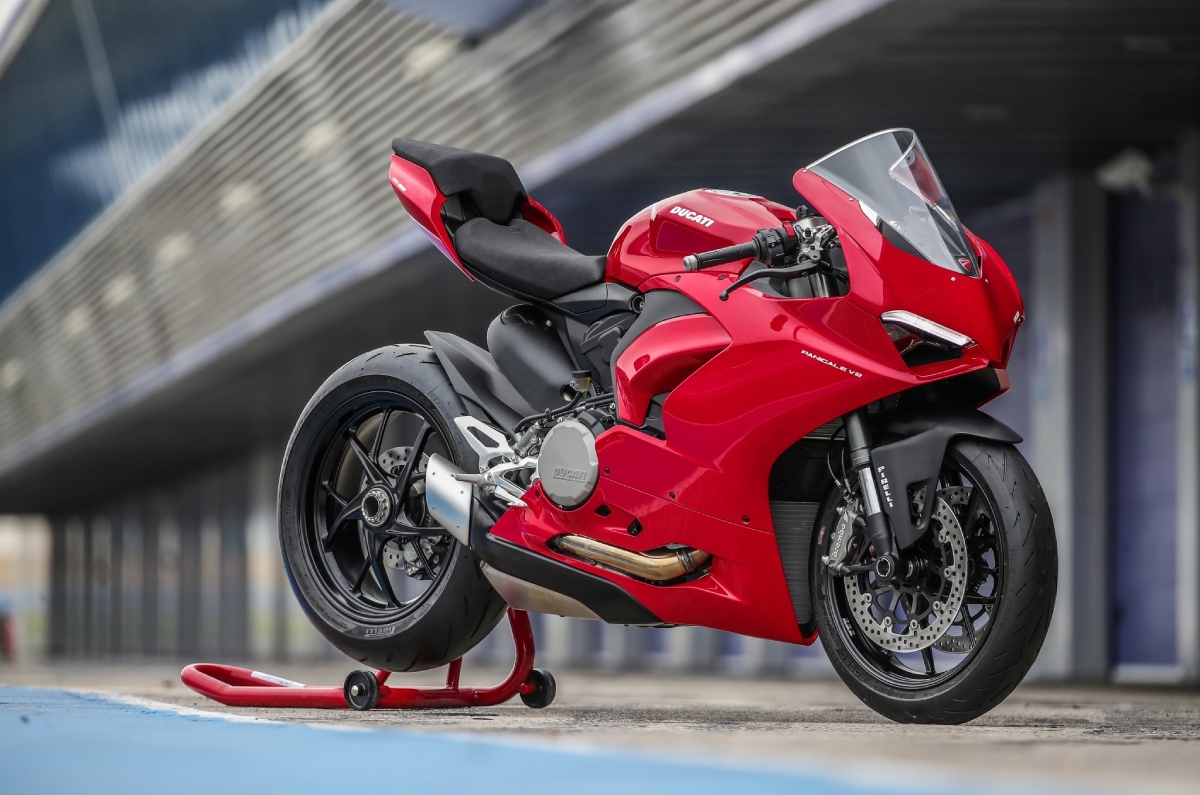 Introduction Ducati Panigale V2
In the world of high-performance motorcycles, Ducati has always held a special place. Known for their exquisite blend of Italian design and cutting-edge technology, Ducati motorcycles are the epitome of power, style, and precision. Among their impressive lineup, the Panigale V2 stands out as a true marvel, offering a thrilling riding experience. In this article, we'll delve into the exquisite details of the Ducati Panigale V2, exploring its specifications and every minute aspect that makes it a dream machine for enthusiasts.
Design and Aesthetics
The Ducati Panigale V2 showcases Ducati's commitment to striking aesthetics and aerodynamic design. This supersport bike features a captivating mix of bold lines, sharp angles, and elegant curves. The fairings are meticulously crafted to not only enhance the bike's visual appeal but also reduce aerodynamic drag. The dual-LED headlights and distinctive air intake vents give it a predatory stance, while the sleek tail section adds to its overall allure.
Engine and Performance
At the heart of the Ducati Panigale V2 lies a potent 955cc Superquadro L-twin engine. This powerplant is a marvel of engineering, delivering a remarkable 155 horsepower and 104 Nm of torque. The Desmodromic valve system, a hallmark of Ducati's engines, ensures precise valve control for optimal performance.
The Panigale V2's engine is paired with a six-speed gearbox, offering seamless shifts and a dynamic riding experience. The quickshifter and slipper clutch further enhance the bike's performance by allowing for effortless gear changes and preventing wheel hop during aggressive downshifts.
Chassis and Suspension
To harness the engine's power, Ducati has equipped the Ducati Panigale V2 with a high-strength steel trellis frame. This frame provides exceptional rigidity and stability, allowing riders to push the bike to its limits while maintaining control. The fully adjustable 43mm Showa BPF (Big Piston Fork) front suspension and a Sachs rear suspension provide a plush and responsive ride, even when carving through tight corners.
Braking and Safety
The Ducati Panigale V2 features top-tier Brembo braking components, including dual 320mm discs up front with M4.32 radial monobloc calipers. These brakes offer exceptional stopping power and feel, ensuring riders can confidently scrub speed when needed. The Bosch Cornering ABS system further enhances safety by preventing wheel lock-up during hard braking, even in corners.
Electronics and Rider Aids
Ducati has equipped the Ducati Panigale V2 with a comprehensive suite of electronics and rider aids to enhance the overall riding experience. This includes:
Ducati Traction Control (DTC): A multi-level system that adjusts traction control based on the riding mode selected.
Ducati Quick Shift (DQS): A bi-directional quickshifter for seamless gear changes without using the clutch.
Ducati Wheelie Control (DWC): Helps manage wheelies during hard acceleration.
Riding Modes: The Panigale V2 offers three riding modes – Sport, Street, and Race – each with its own unique settings for power delivery, traction control, and ABS.
Ducati Power Launch (DPL): An electronic launch control system for optimal acceleration from a standstill.
These electronic aids provide riders with a customizable experience, allowing them to tailor the bike's performance to their preferences and skill level.
Instrumentation and Connectivity
The Ducati Panigale V2 features a 4.3-inch full-color TFT display that provides essential information at a glance. Riders can access detailed ride data, adjust settings, and even connect their smartphones via Bluetooth to access incoming calls and messages. Ducati's multimedia system further enhances connectivity, making it easier to manage music and navigation while on the road.
Wheels and Tires
The Ducati Panigale V2 rolls on lightweight 17-inch alloy wheels fitted with Pirelli Diablo Rosso Corsa II tires. These high-performance tires offer exceptional grip and stability, ensuring riders can push the bike to its limits while maintaining control, both on the track and on the street.
Exhaust System
The Panigale V2 features a beautiful underbelly exhaust system that not only enhances the bike's aesthetics but also delivers a thrilling exhaust note. It complies with Euro 5 emission standards while still providing an exhilarating soundtrack for riders and onlookers alike.
Weight and Dimensions
The Panigale V2 is impressively compact and agile, with a dry weight of approximately 176 kg (388 lbs). Its wheelbase measures 1,436 mm, ensuring stability at high speeds, while a comfortable seat height of 840 mm makes it accessible to a wide range of riders.
Fuel Tank Capacity
The bike comes with a 17-liter (4.5-gallon) fuel tank, offering a respectable range for both spirited rides and long-distance touring. The Panigale V2's fuel efficiency, while not its primary focus, allows for reasonable distances between refueling stops.
Price and Availability
The Ducati Panigale V2 was priced starting at approximately $16,495 USD. However, prices may vary based on location, optional features, and any updates made by Ducati since then. It is advisable to check with your local Ducati dealership for the most current pricing and availability.
Conclusion
The Ducati Panigale V2 is a testament to Italian craftsmanship and engineering excellence. Its stunning design, powerful engine, advanced electronics, and rider-focused features make it a true supersport marvel. Whether you're tearing up the track or enjoying spirited rides on the open road, the Panigale V2 offers an unforgettable experience. With Ducati's commitment to performance and style, this motorcycle is more than just a machine; it's a work of art that promises an exhilarating journey every time you swing a leg over it.